There are many good reasons to make something using ground beef on a weekday, starting with the fact that ground beef is cheap, easy to prepare, and versatile. There are no limits to how you can utilize it.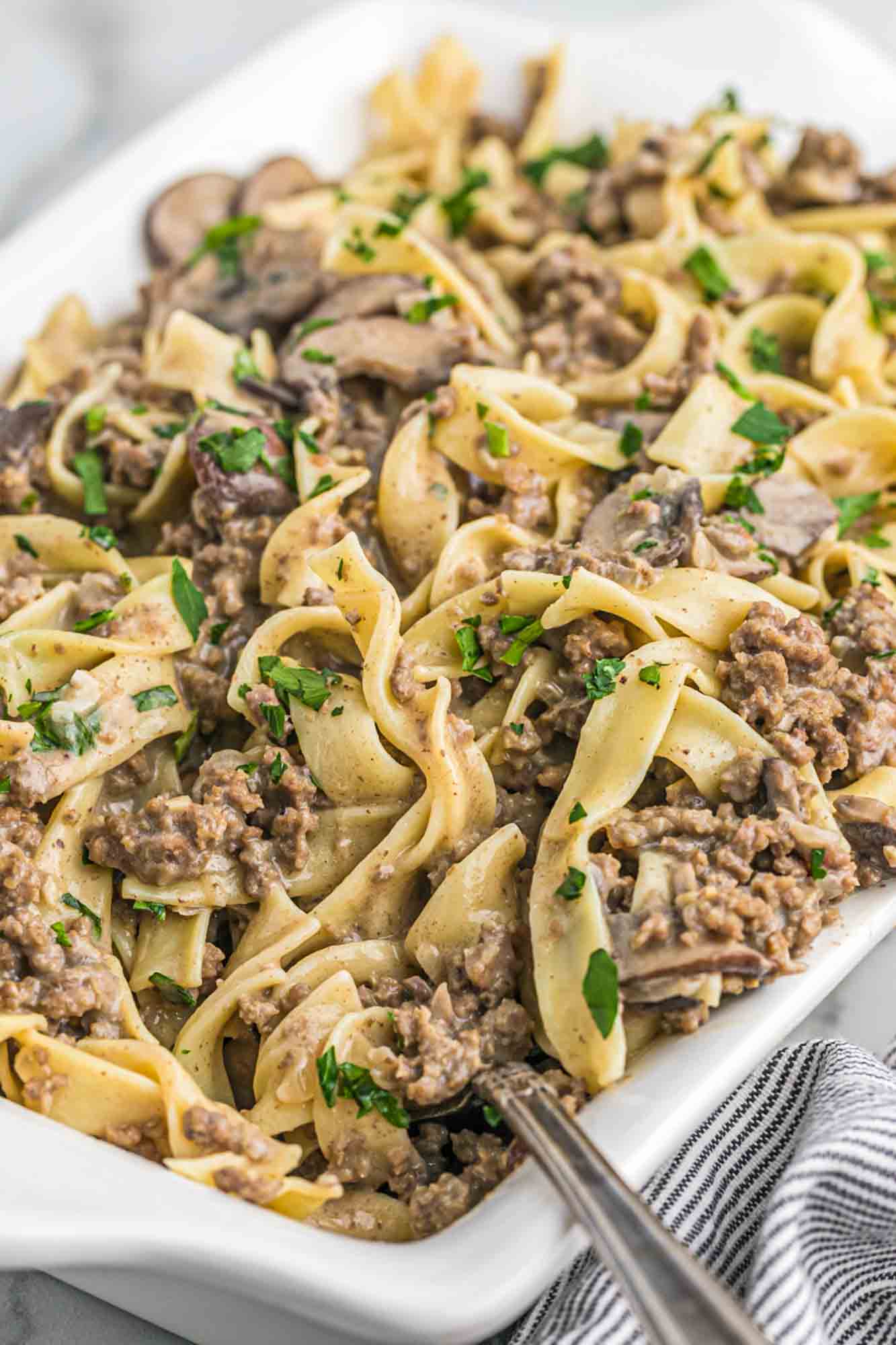 It's easy to get stuck in a midweek dinner rut with the beef protein, especially when the kids only want macaroni and cheese.
Here are the 5 Best Ground Beef dinner ideas your entire family will like if your culinary imagination is limited to Bolognese sauce and tacos.
1. Korean Beef Recipe
You can start with just eight ingredients out of your pantry in this recipe. If you are someone who loves sweet and umami notes in their palette, under a quick 40 minutes, then this Ground Beef recipe is for you.
Being a diehard fan of Asian cuisine, I find this Beef recipe is the perfect concoction of sweetness and savor from the soy sauce. And, with a little add-on to some rice or any carbs you like, it can make a position to your top favorite go-to meals.
Try this super quick delicious ground beef stir fry with all the MSG contents. You will love it!
2. Mexican Picadillo Recipe
You can go wild with this Mexican Picadillo Ground beef chilli recipe. You can serve this Mexican picadillo recipe with several side dish: over rice or with tortillas for a complete dinner.
What I love about Mexican Picadillo, it's easy to make, has a great deal of taste, and can easily be customized with a wide range of additional ingredients, and it tastes like "frito pie". All you need is some minced beef, tomato sauce, or any source of tomatoes and veggies with a few staple spices straight out of your pantry.
Mexican Picadillo can give you a big room for versatility while keeping it as simple as ground beef!
3. One Pot Taco Pasta Recipe
This one-pot-rich Taco Pasta Recipe will be ready in about 30 minutes! You slather the cheesy taco sauce made with tomatoes and ground beef on pasta shells. You don't have to worry about washing dishes because we are talking about the One Pot Taco Recipes. This is a lord's blessing straight out of the test kitchen.
What I love about this dish is that it is a taco-style hamburger meat recipe but considerably better than what you would find in a box. And it cooks in the blink of an eye.
As far as 30-minute meals go, I'm not exaggerating when I say this one is a one-pot wonder for humans.
4. French Onion Savoury Mince Recipe
This ground meat dish is sure to please all of your family members when cooked in the oven, thanks to a package of French onion soup mix.
The best thing about this dish is you don't have to wait for hours to start this recipe. Just throw in all the ingredients one after one, and eventually, you will find yourself making some delicious french delicacy.
Tell me, who wouldn't enjoy a mac and cheese dinner with lean ground beef and sauteed onion goodness under a 30-minutes meal prep?! I was no different, folks, so here is the recipe.
5. Cheesy Hot Beef Sandwich Recipe
Stuffed bread with cheese, cream of mushroom sauce, and ground beef make it a CROWD's favorite recipe for a hot beef sandwich.
This recipe is for you if you're in the mood for a quick and easy savory sandwich! Make this Cheesy Hot Beef Sandwich dinner if you haven't already! The creamy and flavorful filling of thick minced beef is reminiscent of a traditional sloppy joe.
So, if you are a fan of sloppy joe like me, get this dish done under an hour with the simplest ingredients.
6. Fork Tender Burgers and Gravy Recipe
If you're looking for a quick supper option, these Fork Tender Burgers with Gravy are just what you're looking for. These burgers have a lot of taste. Especially when coated in brown gravy, you can't stop craving. So you can spend time with loved ones rather than slaving away in the kitchen. These burgers are a simple and quick supper option.
Onions, Worcestershire, herbs, and spices combine to flavor the burger patties before they are grilled to perfection in olive oil. Such a tantalizing view to watch the gravy poured directly on top of the dish.
It is a must-try dish if you are considering having ground beef for a weeknight dinner!
7. Copycat Cracker Barrel Meatloaf Recipe
This easy ground beef recipe for Cracker Barrel Meatloaf copycat takes only a few minutes to prepare and doesn't require you to leave your house. If you're looking for a meatloaf recipe cut above the rest, this is it! In order to give this dish a distinct flavour and texture, it is cooked using hash browns rather than the typical breadcrumbs. Plus, if you're anything like us, you're down with hash browns in any form.
Even if you may question why restaurant food tastes better than yours, it will never be a problem again. Cracker Barrel's meatloaf recipe has been perfectly recreated here. So there's no need to spend money on a restaurant meal.
Ground beef cannot shine any better than this recipe if you are craving meatloaf.
8. Grandma's Goulash Recipe
Grandmother's one-pot recipes are the best way to get your weeknight meal on the table in a hurry. To save time and effort, this version of "Grandma's Goulash" is a delightful old-fashioned meal that cooks in one pan!
This hearty dinner includes ground beef, tomato paste, macaroni, and more, making it a hit with everyone. With just 40 minutes of prep time, this is a quick and simple supper option. Top it with cheese and sour cream to make it even cozier.
I personally feel like this is the best dish if you are looking for a comforting food with beef.
9. Classic Italian Meatballs Recipe
This recipe is enough to serve a large gathering or be frozen for later use. Toss spaghetti with big meatballs, or slice them thinly for sandwiches and burgers. Make canapés, black bean, pizza toppings, or soup garnishes with the little meatballs. You can even enjoy stuffed pepper with this meat ball recipe. Go wild with it because you can go wild with these meatballs using ground beef.
This preparation makes a huge portion, so I prefer to divide it into two batches and freeze them. The large size is ideal for slicing into meatball sandwiches and sliders or for serving with pasta dish as a separate meat meal. You may do these meatballs in tiny portions as a starter or as an addition to a pizza topping or a soup.
When I have them frozen, I can quickly cook various excellent dinners. Trust me; it's worth a try.
10. Hamburger Potatoes Recipe
Are you looking for ground beef slow cooker recipes? Hamburger potatoes are a versatile dish that may be served as a warming winter supper or a nourishing summer meal.
When you have guests around, this is a great meal because everything is cooked together in one pot in slow cooker, saving you time and allowing you to spend it with your guests. You'll fall in love with it as soon as you make it.
Because it uses less energy than an oven, the Crock Pot is a more efficient way to prepare meals. Now cook your beef dinner with joy in a slow cooker.
11. "Philly Cheesesteak" Ground Beef Casserole Recipe
This "Philly Cheesesteak" Ground Beef Casserole dish will satisfy your want for a cheesy, meaty Philly cheesesteak without the effort of creating the sandwich. It's a cheesesteak-flavored beef dish that's really easy to put together!
Baked peppers, mushrooms topped with Cheez Whiz, and a crescent roll crust are a sure way to impress guests. With this family recipe, you can feed the entire family in a matter of minutes.
It is so easy and so yummy. When are you inviting your friends?
12. Porcupines in a Skillet Recipe
Porcupines in a Skillet is a filling dish made even better with the addition of rice and beef cooked in the onion mixture. Isn't that easy? It just takes around 30 minutes to complete. Don't be fooled by the name!
If you've been around for a while, you'll know I'm a big fan of simple dinners. I'll have to settle with something simple if I can't prepare a gourmet supper for my family every night. But I'd like to serve them a decent, hot dinner, and this is exactly what I'm looking for. A roll and salad are all that are needed to enjoy this dish.
Whenever I'm looking for a one-pot meal that's quick and easy, I turn to this one. I'm sure a kid, with a bit of help, could make it.
13. Puff Pastry Mini Cheeseburger Bombs Recipe
Do you love having shepherd's pie? The Puff Pastry Mini Cheeseburger Bombs from Campbell's Kitchen will please your taste buds with their melty cheesiness. Flaky puff pastry encases spiced ground beef, cheddar cheese, and a savory cheeseburger filling.
With these party appetizers, everyone will be eager to get their hands on one. Kids and adults alike will enjoy these little cheeseburger pies. This Puff Pastry Mini Cheeseburger Bombs recipe is a breeze to put together.
These Puff Pantry are addictive; don't tell me I warned you!
14. 30 Minute Beef 'n Bean Bake Recipe
In search of easy hamburger casserole recipes that would delight everyone at the table, young and old? This 30 Minute Beef 'n Bean Bake dish will please everyone! This hearty ground beef casserole recipe comprises flavorful beef, salsa, tortillas, and cheese.
I am kidding you not. This recipe is all about throwing all the ingredients in one casserole and baking it. Cooking meals cannot get any easier.
If you don't feel like cooking but want to have some fresh homemade minced beef dish, your search is over.
15. Stupidly Easy Italian Crescent Casserole
And I saved the best one for the last! This dish is for you if you're tight on time but still want a tasty meal. From start to end, this Easy Italian Crescent Casserole comes together in about 30 minutes with only a handful of common ingredients!
This Italian casserole is full of flavor thanks to the crescent rolls that make the crust and the pasta sauce, beef, cheese, and sour cream that fill it. It's as simple as browning the meat, layering it, and then baking it until it's golden brown.
It's super easy and looks fancy.
15 Best Ground Beef Recipes You'll Love
Ingredients
Korean Beef

Mexican Picadillo

One Pot Taco Pasta

French Onion Savoury Mince

Cheesy Hot Beef Sandwich

Fork Tender Burgers and Gravy

Copycat Cracker Barrel Meatloaf

Grandma's Goulash

Classic Italian Meatballs

Hamburger Potatoes

"Philly Cheesesteak" Ground Beef Casserole

Porcupines in a Skillet

Puff Pastry Mini Cheeseburger Bombs

30 Minute Beef 'n Bean Bake

Stupidly Easy Italian Crescent Casserole
Directions
Select your favorite recipe.
Organize all the required ingredients.
Prep the 15 best ground beef recipes in 30 minutes or less!